Materials for Machined Parts
---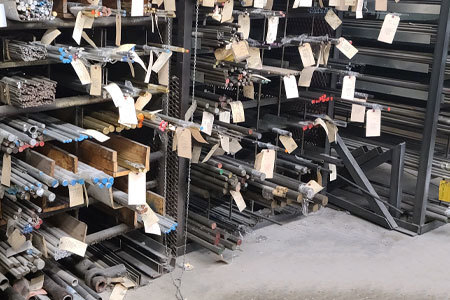 At Hi-Standard Machining Company, we utilize a variety of materials, such as: steel, brass, aluminum, stainless steel, titanium, plastics, nylon, acetal, delrin, teflon, acrylic, rod, etc. This wide range of materials that we use allows us to have the experience needed to produce high-quality parts efficiently. We can also work with you to ensure each part is made of the proper material for your needs. Each material has its own pros and cons based on what the part requires.
Most of our machining is done using tough steels, such as stainless steel. This is due in part to its high level of corrosion resistance as well as the hardness that it provides, especially when heat treated. Those two qualities make it a great choice for a wide variety of applications. With rods ranging from 1/16 to 1 1/4 inches, the parts that we manufacture can vary from small to larger with high precision.
Brass is another popular material for high-precision small fittings. It is mainly an alloy that consists of copper with zinc added. Brass is very durable and can withstand high temperatures as well as resist corrosion. Another positive of working with brass is that even though it is very durable, it is also more malleable than steel which can help when bending or shaping it to fit properly in your application.
Contact us today to discuss your machined parts needs and determine how we can save you money with our cost effective and efficiently made parts and processes.