Quality & Capabilities
---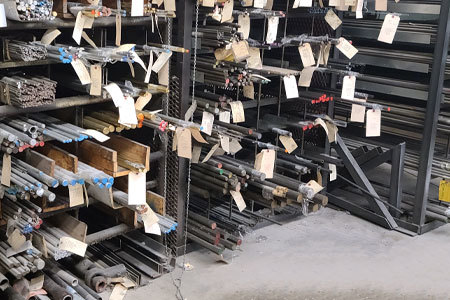 We machine a wide range of parts in a variety of materials, such as: steel, brass, aluminum, stainless steel, titanium, plastics, nylon, acetal, delrin, teflon, acrylic, rod, etc. These parts are made from bar stock rounds, hexagons, rectangles, and squares. The various Swiss Screw Machines that we utilize, as well as our secondary operations, allow us to create the specific part that you need and our quality control ensures that they meet your standards and specifications every time.
Current Systems In Place
Hi-Standard Machining Company is focused on providing high-quality Swiss screw machined parts to our clients. As part of that focus, we are ISO 9001:2015 Certified, which means that our quality management systems meet international standards. As part of our processes to ensure quality, we use the GAGEtrak Calibration Management Software and a DBA Small Business Program Manager. Learn more about our ISO certification and other quality control processes.
Listed below are more details about the equipment and processes that we use to provide our Swiss screw machined parts. These systems and machines allow us to meet or exceed customer expectations on every project, which is evidenced by our high growth due to word-of-mouth referrals.
---
Capabilities
Primary Operations Room
1 L32X Citizens 7 axis Swiss CNC Screw Machine (capacity up to 1 1/4")
4 L20 Citizens 7 axis Swiss CNC Screw Machines (capacity up to 20mm)
1 A32 Citizens 7 axis Swiss CNC Screw Machine (capacity up to 32mm)
15 Brown & Sharpe Screw Machines (capacity ranging from 1/32" to 1-1/2" Round material and 1/32" to 1-1/4" Hex material)
Secondary Operations Room
Cross Drilling & Threading
Horizontal & Vertical Milling
12 Drill Presses
4 Hardinge's Hand Screws
Quality Control Room
Optical comparator with digital read-out
Digital height gauges
All certified inside and out hole gauges
Computer measuring machine (Aberlink CNC CMM) used for quality assurance
Inspections on a first article, in-process, and final inspection basis
Parts get a full inspection after each operation, then they are packaged and shipped any way you want them