Medical Equipment Parts
---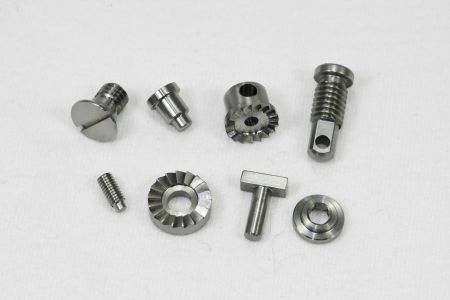 Since the beginning, the medical field has been evolving decade after decade, year after year. With constant studies and new findings, there will always be something for the world to discover. With new discoveries or even new practices, it is essential for doctors to have the tools and equipment to continue their research and to learn more in depth about their findings. To make that all possible, they require durable, reliable, and efficient tools, because when you are working in the medical field, there is no room for error. That is why we have partnered with other companies to help make these pieces of surgery and other medical equipment by supplying them with one-of-a-kind parts that they can trust. A large portion of our medical machined components have been used in the orthopedic surgery industry; specifically with replacement surgeries for backs, knees, and hips.
At Hi-Standard Machining Company, located in Racine, Wisconsin, we take pride in the high-quality parts that we manufacture. By creating precise parts at their exact specifications, the products that leave our company give our clients great satisfaction. This is all possible due to our hardworking staff and advanced technology. By only using certified materials, machinery, processes, and compliance with our ISO 9001:2015 and CMM quality controls, you can fully rely on the parts that Hi-Standard creates. Each part is quality tested and certified to ensure precision and performance with each part.
With years of experience working with medical equipment manufacturers, we have the knowledge and the tools to manufacture any of your medical part needs. If there is a new part that you may be looking for to comply with your equipment, we will work with you to ensure that you receive your components in the quantity and frequency of deliveries that you need. We use high-quality stainless steel of any grade, so not only will you have the parts you need, but they'll also be made with a durable material as well. We will source the raw materials and machine it for you. Our machines are capable of handling raw material ranging from 1/32" to 1 ½".
As long as the medical field continues to evolve, so will Hi-Standard. If you are in need of high-quality, precision components for medical tools and equipment, contact us today to request a quote to get started on your new reliable medical parts.